Unit Update: Promotions & Assignments
05-02-2016, 10:34 PM
(This post was last modified: 05-02-2016, 11:51 PM by M. Ainslie.)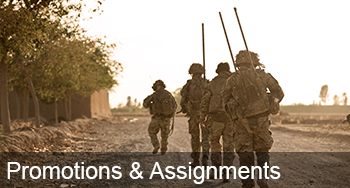 05/02/2016
To : All Alma Coy personnel, 4 inf bde
From: A/Sgt. P. Siddy, Alma Coy 2ic
Subject: Promotions & Assignments
Issued: 05FEB2016
Following a successful Potential Non Commissioned Officer Course taken by Cpl. M. Ainslie, the following people have passed pending potential promotion opportunities:
Pte. D. Charnock
Pte. E. Mullan
Pte. T. Steele
Pte. C. Vencuser
Pte. R. Rawat
Pte. B. Taaffe
Pte. X. Qoazi
Congratulations all.
Following this process, Pte. D. Charnock has been promoted to LCpl. D. Charnock with immediate effect and has been assigned within his current section as Lance Corporal.
Well done.
Regards,
A/Sgt. P. Siddy
Alma Coy, 2ic
Users browsing this thread:
1 Guest(s)